Dollar Down, but Gains Against Yen, as Investors Await Latest U.S. Jobs Report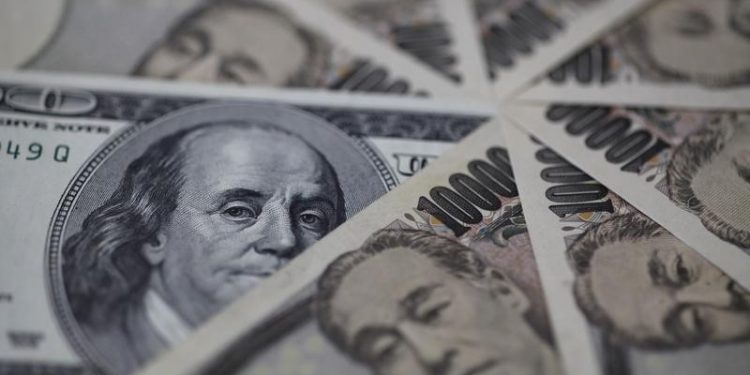 Dollar Down: Investing.com – The dollar was down on Friday morning in Asia but set for a fifth
consecutive weekly gain on the Japanese yen. This rally could be extended if the
latest U.S. jobs report justifies early Federal Reserve interest rate hikes.
The U.S. Dollar Index that tracks the greenback against a basket of other currencies
inched down 0.10% to 96.230 by 10:49 PM ET (3:49 AM GMT).
The USD/JPY pair inched up 0.05% to 115.88. Japanese data released earlier in the
day showed that household spending contracted 1.3% and 1.2% year-on-year and 
month-on-month in November, while the Tokyo core consumer price index (CPI) grew
0.5% year-on-year in December.
The AUD/USD pair edged up 0.13% to 0.7169 and the NZD/USD pair edged up
0.15% to 0.6755.

Dollar Down:
The USD/CNY pair inched down 0.10% to 6.3765. The GBP/USD pair edged up
0.14% to 1.3548, over investor expectations that the Bank of England will also soon
begin hiking interest rates.
The dollar hit a five-year high against the yen at 116.35 on Tuesday but has since
fallen back somewhat. The U.S. currently is up about 0.7% on the yen this week and
about 2.7% over five weeks, over expectations that the Fed will start hiking interest
rates several times in 2022, beginning in March that drove a bond market selloff and a
rise in yields.
The yen is the most prominent loser among major currencies, with investors betting
that the Bank of Japan will lag its peers in hiking interest rates. The dollar, meanwhile,
is set for its best week in more than a month against its Australian and New Zealand
counterparts.
Meanwhile, St. Louis Fed President James Bullard said on Thursday that the Fed could also start reducing its balance sheet soon after it begins hiking interest rates. San Francisco Fed President Mary Daly added that the balance sheet reduction would follow normalizing rates.
Investors now await the U.S. job report due later in the day and particularly the non-farm payrolls figure.
"If it is a very strong number the Fed has more fuel to maintain the hawkish rhetoric, which further supports the March hike probability," NatWest analysts said in a note, which added the downside is probably limited.