Forex Signals Brief for April 29: European Inflation and GDP Numbers Out Soon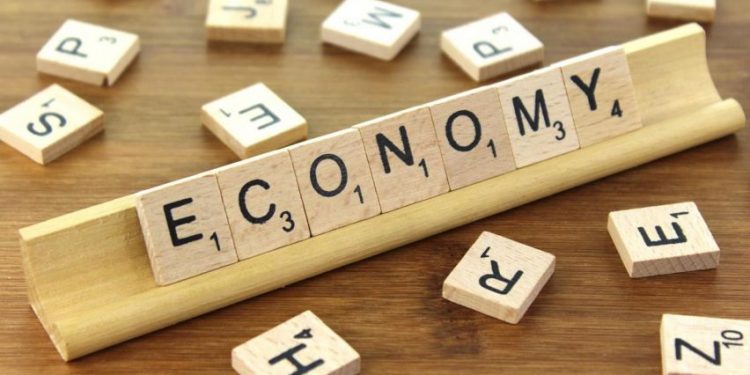 Yesterday's Market Wrap
Forex Signals April 29:Yesterday started with the Bank of Japan (BOJ) meeting which kept interest rates on hold as anticipated, while other major central banks are increasing them pretty quickly. The BOJ decision to keep up with fixed-rate operations is not helping the JPY much and the fact that Kuroda continues to mention ultra-easy policy continues to underscore the monetary policy divergence between Japan and the rest of the developed world. As a result, USD/JPY moved above 131 yesterday which is the highest in two decades.
Spanish CPI inflation showed a small cool-off this month from 9.8% in March but in Germany, inflation increased further in April, so prices remain quite high, which will hamper the economy which we will see today, as they did in the US during Q1. The US advance GDP reading for Q1 which was released in the US session, was expected to show a 1.1% expansion, but instead showed a -1.4% decline. Nonetheless, the USD kept rallying higher and doesn't seem to stop.
The Data Agenda Today
There will be a little bit of top-tier around to end the week as we get underway early in Europe. Today will be another GDP day, starting with the French GDP report in the early European morning which is expected to grow by 0.3% in Q1, followed by the Spanish GDP figures which are expected at 0.6%, the German GDP expected at 0.2% and the Italian GDP which is expected to contract at -0.2%. The Eurozone GDP is expected to show a 0.3% expansion while the CPI inflation is expected to tick higher to 7.5% this month from 7.4% in March. later in the US session, the Canadian monthly GDP is expected to grow by 0.8%.
Forex Signal Update
The FX Leaders Team hit 3 winners from 4 trades as we put together a solid week of results, having the history table almost full of winning trades.
EUR/USD – Pending Sell Signal
The EUR/USD has been extremely bearish since late last week, although it keeps pushing a little higher now and again, which present good selling opportunities. As such we are looking at a potential short at moving averages and have placed a sell limit pending order at 1.0540.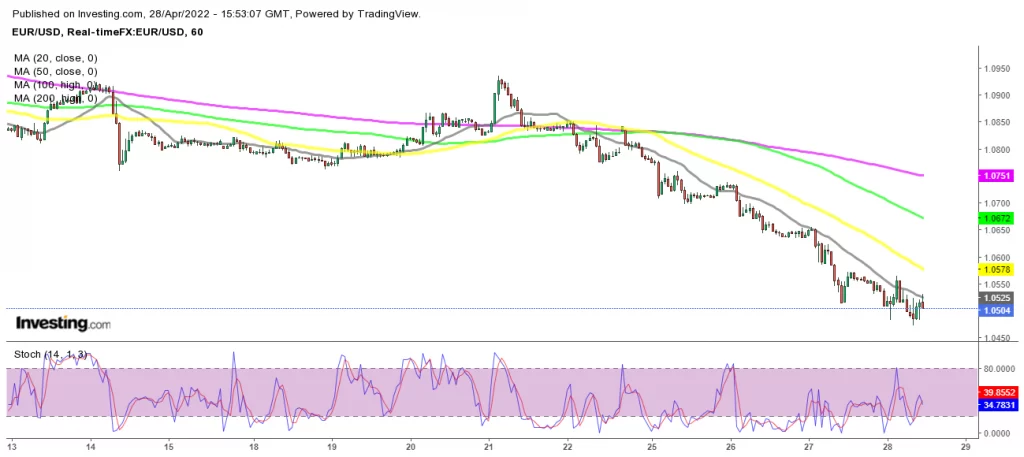 SD/JPY – Buy Signal Forex Signals April 29:
USD/JPY has resumed the bullish trend after a pullback lower earlier this week, which was due after such a strong uptrend. We decided to use smaller timeframe charts as a result, and opened a buy signal after the slight pullback to the 20 SMA (gray) and booked profit as the uptrend resumed again.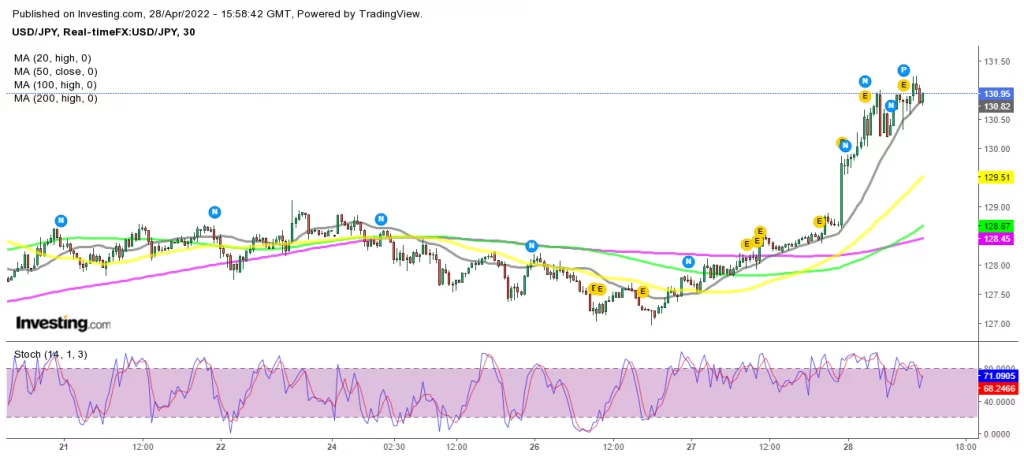 Cryptocurrency Update
Buying Litecoin at Support
LTC has been knocking on the door of the $100 level many timed, but as yet has not really looked like challenging it in any meaningful way. The highs keep getting lower which is not a good sign to buy, but my colleague Arslan opened a short term buy signal yesterday against the $100level and booked profit.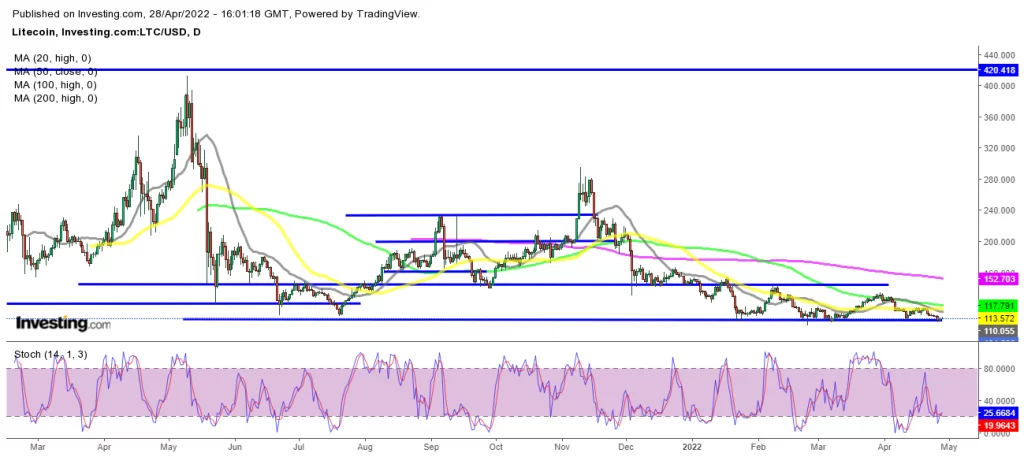 The $100 level keeps holding as support for LTC
Holding to Our Terra LUNA Buy Trade
Terra LUNA token has been the most bullish cryptocurrency since November, as it continues to make higher highs. LUNA/USD retreated in January, falling to the low $40s, but the 200 SMA (purple) held as support twice and buyers resumed the uptrend again. Luna almost reached $120 earlier this month bt retreated lower again although this time it was the 100 SMA (green) which held as support where we decided to open a buy signal. Terra LUNA has bounced off this moving average but hasn't been able to overcome the 20 daily SMA (gray).