Daily Forex News and Watchlist: GBP/CAD
News and Watchlist GBP/CAD: A dovish rate hike dragged GBP lower against CAD.
Will we see a breakdown of GBP/CAD's triangle pattern?
News and Watchlist GBP/CAD: Before moving on, ICYMI, yesterday's watchlist checked out GBP/AUD's pullback opportunities ahead of the BOE statement. Be sure to check out if it's still a valid play!
And now for the headlines that rocked the markets in the last trading sessions:
Fresh Market Headlines & Economic Data:
As expected, BOE hikes rates for a third consecutive month to 0.75%
BOE adopts dovish tone as Ukraine war adds to inflation concerns
Philadelphia Fed's manufacturing gauge improves from 16.0 to 27.4 in March
U.S. House moves to revoke Russia, Belarus trade status
U.S. weekly jobless claims fall to 214K, lowest since start of 2022
U.S. housing starts rebound by 6.8% in Feb; building permits fall by 1.9% after sharp increase in Jan
Wall Street closes higher as worries ease around Fed, Russian default
Japan Feb core CPI rises 0.6% y/y
BOJ maintains huge stimulus, warns of growth risks from Ukraine crisis
BOJ's Kuroda: higher inflation mostly due to rising commodity prices so "no need" to tighten monetary policy
Asian stocks step back, oil bounces as peace talks stall
Upcoming Potential Catalysts on the Forex Economic Calendar:
Italy's trade balance at 9:00 am GMT
Eurozone's trade balance at 10:00 am GMT
Canada's retail sales at 12:30 pm GMT
U.S. existing home sales at 2:00 pm GMT
What to Watch: GBP/CAD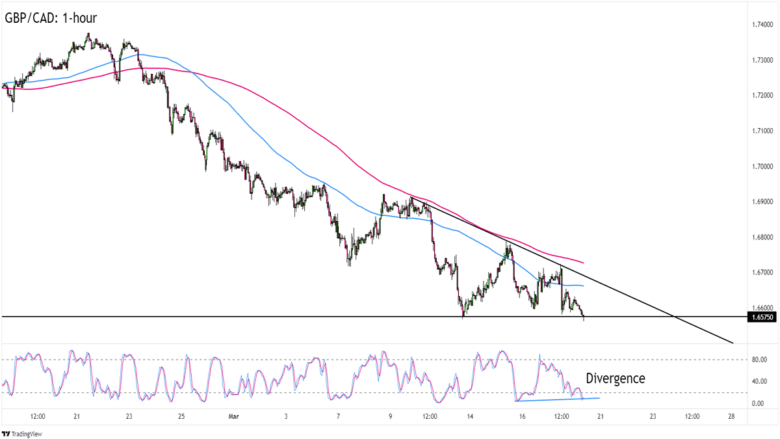 News and Watchlist GBP/CAD: In case you missed it, the Bank of England (BOE) raised its interest rates for a third month in March BUT also warned that Russia's war with Ukraine has added to the uncertainty around the economy's growth.
Meanwhile, a rise in oil prices and a bit of risk-taking has pushed CAD higher against its major counterparts.
GBP/CAD traders are now paying attention to the pair's weekly support near 1.6575. As you can see, it also marks the bottom of a descending triangle on the 1-hour time frame.
Let's see if Canada's retail sales report scheduled in the U.S. session will get things moving for the pair.
The odds are favoring the bulls with a couple of wicks around the triangle support and a bullish divergence on the 1-hour chart.
But current market themes point to an extended downtrend.
Unless there's development in the Russia-Ukraine peace talks, or unless Canada's retail sales numbers miss expectations of a rebound, then we could see GBP/CAD make new monthly lows and revisit its March 2020 lows near 1.6540.