USD/CAD Resumes the Bullish Trend, as PPI Inflation Surges in the US Too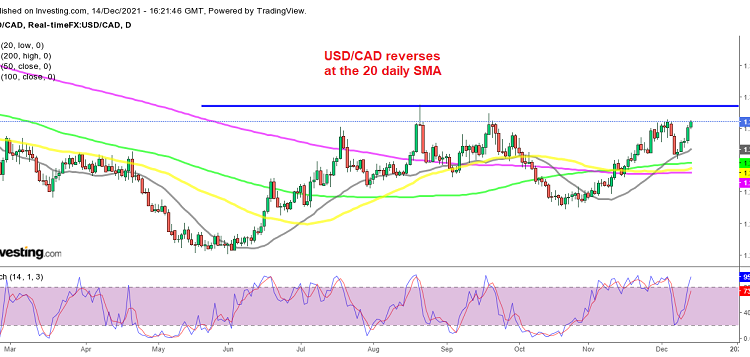 USD/CAD Resumes the Bullish Resumes, The USD/CAD has been on a bullish trend since the beginning of June, when it reversed at $1.20, following a long decline from $1.47. We saw a deep pullback in this pair in October, and early last week, we saw another fast reversal when the price fell around 250 pips. But, the 20 SMA (gray) was providing support on the daily chart, so we predicted that a reversal might come at that area, since the US inflation remains high.
Last week's CPI (consumer price index) report showed another increase to 6.8%, while today's PPI (producer price index) report also increased. This is forcing the FED to turn even more hawkish. The USD/CAD has reversed higher now, after bouncing off the 20 SMA, so the bullish trend continues.
Canadian CPI Inflation Report
Prior report
CPI YoY 4.7% vs 4.7% estimate. Last month it came in at 4.7% as well. This month equalled the highest level since February 2003.
CPI Core YoY 3.6% versus 3.8% last month
CPI MoM 0.3% vs 0.3% estimate
CPI Core MoM 0.2% vs 0.2% last month
Higher prices for gasoline (+43.6%), furniture (plus 0.7%) and food (+4.4%) were the main drivers of growth in the headline CPI
Excluding gasoline CPI 3.6% YoY unchanged from October
Prices rose in eight major components on a year-over-year basis in November. Transportation and shelter prices contributed most of the increase
Goods +6.9% versus 6.5% in October
Services +2.9% versus 3.2% in October
Declines in prices for cellular services (-17.9%) contribute to the slow down in the service prices
Core measures of inflation YoY
Common CPI 2.0% year on year versus 1.8% last month
Median CPI 2.8% versus 2.0% last month
Trimmed 3.4% versus 3.3% last month
USD/CAD Resumes the Bullish, US PPI Inflation Report
US November PPI YoY +9.6% vs +9.2% expected
October PPI was +8.6%
PPI MoM +0.8% vs +0.4% expected
Core PPI ex. food and energy YoY +7.7% vs +7.2% expected
Core CPI MoM +0.7% vs +0.4% expected
The US dollar is slightly stronger on this, particularly against the commodity currencies, as risk trades slip, due to high inflation and fear of a hawkish Fed tomorrow. When your input prices are rising nearly 10% in a year, there's a good chance that's getting passed on.
Keep an eye on gold, which is down by $9, to $1777. It's not getting any love from the inflationist.