US Retail Sales and Canadian Inflation Keeps USD/CAD Trading Sideways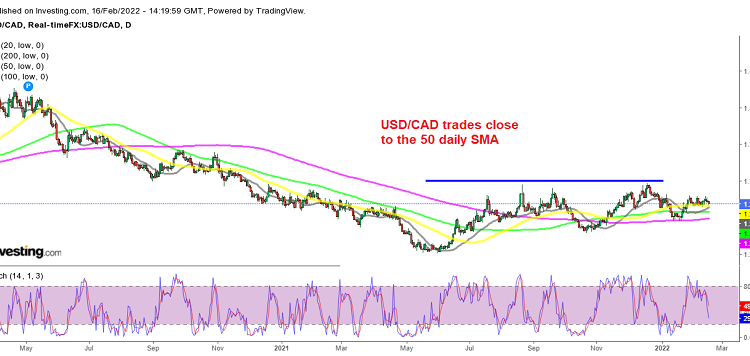 US Retail Sales and Canadian, The US Dollar turned bullish in summer last year, as inflation surged in the US, forcing the FED to accept the numbers and think seriously about tightening the monetary policy. As a result, the USD has been bullish against all major currencies since then, but USD/CAD has been trading in a range.
The CAD has benefited from increasing oil prices, as both US WTI oil and UK Brent crude oil are heading toward $100. Bank of Canada has been holding steady, while the FED is expected to hike interest rates at least three times this year, starting next month.
Inflation has been increasing in Canada, but it's way behind the US, although today's report showed that inflation is surging in Canada as well now and the BOC will eventually turn hawkish as well, which will be another factor in favor of the CAD. But for now, the 50 SMA (yellow) is holding as support on the daily chart for this pair.
Canadian January CPI Inflation Report
January CPI YoY +5.1% vs +4.8% expected
Highest reading since 1991
December CPI YoY was +4.8%
CPI MoM +0.9% vs +0.6% expected– highest reading since Jan 2017
December CPI Mo was -0.1%
Core measures:
Common CPI +2.3% vs +2.2% expected
Median CPI +3.3% vs +3.0% prior
Trimmed CPI +4.0% vs +3.7% prior
The Bank of Canada was already expected to hike in March and this will add on some fresh pressure to signal a series of ongoing hikes. That was already baked in. I don't rule out a 50 bps Bank of Canada hike but it's a long shot. Inflation is a problem everywhere and the BOC has a very clear mandate.
Some highlights:
Shelter costs up 6.2% y/y — fastest pace since Feb 1990
food +5.7% vs +5.2% prior
Excluding gasoline, CPI up 4.3% vs 4.0% y/y prior
Services +3.4% vs +3.4% prior
Goods +7.2% vs +6.8% prior
Wages rose 2.4% vs 2.6% y/y prior
US January 2022 retail sales report
US Retail Sales and Canadian, January retail sales 3.8% versus 2.1% estimate
December sales were -1.9% revised to -2.5%
Retail sales 3.8% % vs 2.1% estimate
Ex autos 3.3% versus 0.8% estimate.
Ex autos last month -2.3%
Control group 4.8% versus 1.0% estimate. The control group excludes oil, gas, and building materials.
Control group last month -3.1%
Total sales for November 2021 through January 2022 were up 16.1% from the same period a year ago
Gasoline stations sales were up 33.4% from January 2021
Food services in trading places were up 27.0% from last year
Retail trade was up 4.4% from December 2021 and up 11.4% above last year
Recall from last month, the retail sales came in much weaker than expectations (-1.9% versus 0.0% expected). However as Adam pointed out last month, the December retail sales tend to miss because of the secular trends toward early holiday shopping. This year there were the worries of supply constraints which likely was the reason for the slump last month.
However, this month's rebound is certainly impressive despite the revision lower in the prior month to -2.5% from -1.9% and the surge in the omicron cases