Forex Watchlist: GBP/CAD Channel Resistance Retest?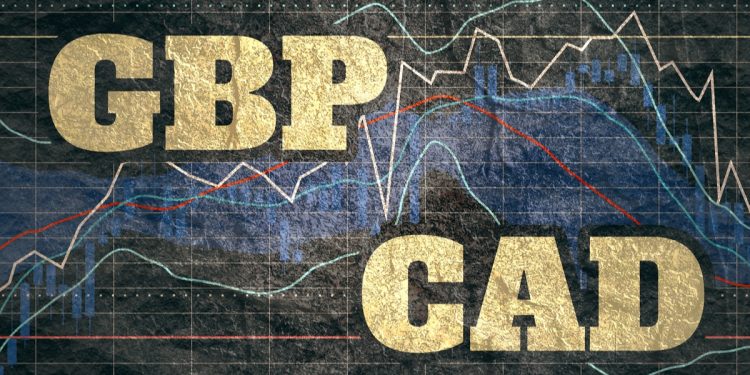 Forex Watchlist: GBP/CAD: It should be a big week for GBP/CAD traders as we'll get the latest monetary policy decision from the Bank of England, and the latest employment data from Canada.
Will these events lead to big volatility, and another opportunity for sellers to play the descending channel pattern on GBP/CAD?
GBP/CAD: Daily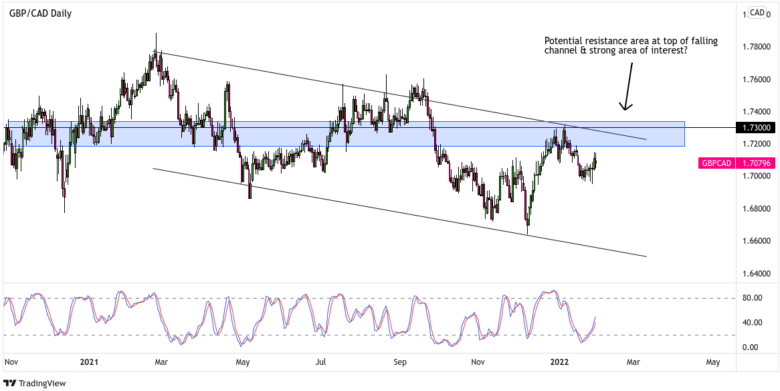 Forex Watchlist: GBP/CAD:
We've got a solid technical swing setup in the works on GBP/CAD this week, a pair that's likely to see a pick up in action with top tier events ahead.
For the British pound, we've got the latest monetary policy statement from the Bank of England a few days away, with expectations that they will hike rates from 0.25% to 0.50% and hold off on any changes to their bond buying program.
And from Canada, we've got the monthly employment report on Friday, with expectations that the December number is going to break from the long string of strong jobs data in 2021.
If these scenarios play out, it's possible that we see GBP/CAD bounce higher this week, taking the market to the top of a descending channel on the daily time frame, as seen in the chart above.
This would also take the market to a very strong area of interest that's been both support and resistance (around 1.7200 – 1.7300) , especially the latter the last time GBP/CAD was there.
We think another retest of that potential resistance area would more likely draw in longer-term sellers than buyers, as the Loonie continues to have a potential rate hike narrative supporting it, as well as the continued rise of oil prices (WTI crude is up over 40% in the last month and oil is Canada's number one export product).
GBP/CAD Channel Resistance:
Unless we get a major surprise from either events (e.g., a more hawkish-than-expected BOE statement, a much worse-than-expected Canadian jobs report), we'll be on the look out for bearish reversal patterns around 1.7200 – 1.7300 before considering a short position.
That scenario could possibly turn into another bearish run in GBP/CAD, with a solid potential return-on-risk if using an upside channel break as a stop guide, and targeting the next potential support area (likely the bottom of the channel and the 1.6500 major psychological handle).
But what do y'all think? Will GBP/CAD bounce higher this week to give the bears another chance to short at better prices? Please let us know in our comment section below!
This content is strictly for informational purposes only and does not constitute as investment advice. Trading any financial market involves risk. Please read our Risk Disclosure to make sure you understand the risks involved.