Selling the Retrace in NZD/USD at Resistance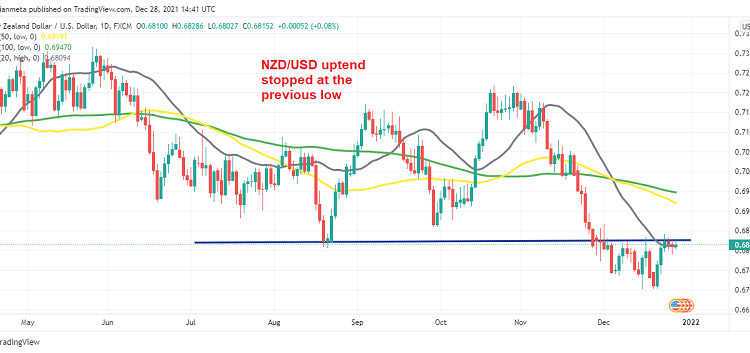 Selling tSelling the Retrace in NZD/USD, NZD/USD turned quite bearish in November, as the USD had a nice bullish run, on the back f higher inflation and the FED turning hawkish. The FED has started the wind down the QE programme by $15 billion a month and we heard rumours that some of FED members want to tighten the monetary policy faster. Now, some analysts anticipate 3 rate hikes in 2022, which would bring them to 1%.
The Reserve Bank of New Zealand also increased interest rates last month from 0.50% to 0.75%, but this also means that they won't hike again soon, which is a negative factor for the NZD. NZD/USD declined from around 0.72 to 0.67 last month.
Selling the Retrace in NZD/USD, The decline stopped there though and last week we saw a retrace higher, which took the price around 150 pips higher. Although the previous support area around 0.6820-30 seems to have turned into resistance now, where we decided to open a sell forex signal on this pair. The retrace is complete and the price is starting to reverse lower, so we are on the right side on this trade. Now NZD/USD should head for the lows at 0.67 again, so we are holding on to this trade.