Gold Retreats to $1,775 After Fed Chair Powell's Hawkish Tone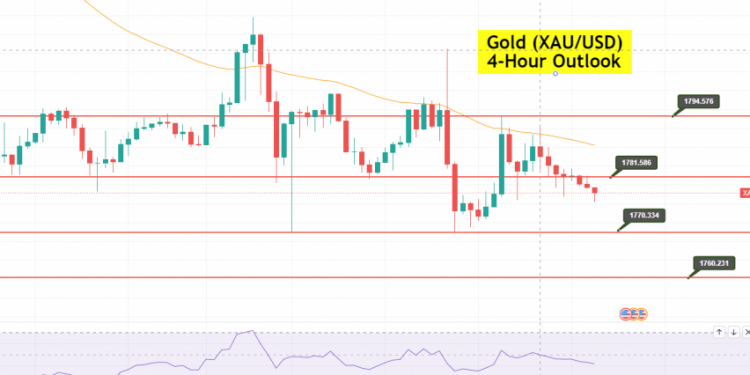 Gold Retreats, Good morning traders,[[Gold ]] prices closed at $1,775.15, after setting a high of $1,811.30, and a low of $1,771.25. The XAU/USD dropped for the third consecutive session on Tuesday, reaching its lowest level since November 4. Despite the weakness of the US dollar, the gold prices remained low for the day, amid further hawkish comments by the US Federal Reserve Chairman, Jerome Powell. The US Dollar Index, which measures the value of the greenback against a basket of six major currencies, fell on Tuesday, dropping down to 95.52, and the 10-year Treasury yields fell for the fifth consecutive session, to 1.41%, which is the lowest since September 24, 2014.
US dollar low, due to unfavorable macroeconomic data released on Tuesday.
The US Dollar was low due to unfavorable macroeconomic data released on Tuesday. At 19:00 GMT, the HPI came in, showing a drop to 0.9% against the forecasted 1.2%, which weighed on the US dollar. The S&P/CS Composite-20 HPI fell to 19.1%, against the projected 19.3%, further capping the losses in the gold prices. The Chicago PMI, which was released at 19:45 GMT, also declined to 61.8, against the anticipated 67.1, putting downward pressure on the greenback. Lastly, the CB Consumer Confidence also dropped, coming in at 109.5, against the projected 110.8, which also limited the losses in gold.
Gold – A Technical Outlook – XAU/USD to Gain Support at $1,769
The oversold precious metal, [[gold ]], has recovered above the 1,770 support level, and it is now heading towards a 23.6% Fibonacci retracement level at $1,781. A surge in buying pressure could help gold overcome a crucial hurdle at 1,781, taking the price to levels around $1,792 and $1,801.

Daily Technical Levels
Support              Resistance
1,760.50             1,800.55
1,745.85             1,825.95
1,720.45             1,840.60
Pivot Point:       1,785.90On the flip side, violation of the $1,770 level could trigger a sell-off until the 1,760 support. The RSI is holding below 50, demonstrating a bearish reversal in [[gold ]]. Therefore, we should consider taking a sell trade below the $1,781 level to target $1,1770. Good luck!