China's Manufacturing Activity Back in Expansion in November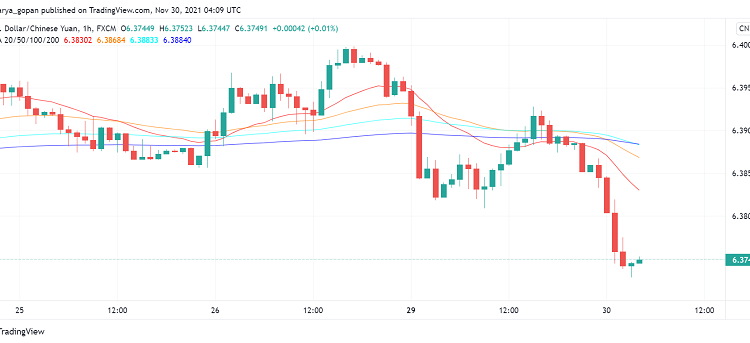 China's Manufacturing activity across China improved during the month; of November as the leading economy saw a decline in both power shortages as well as raw material costs. China's official manufacturing; PMI increased to 50.1 in November, coming in above the 50-threshold indicating; expansion after undergoing contraction for the previous two straight months.
The reading also beat economists' forecast for a continuation of the contraction. According to a poll by Bloomberg; economists expected the official manufacturing PMI to come in at 49.7 for the period instead.
One of the key drivers behind the improved performance in; China's manufacturing sector was an easing in power supply tightness through the month, helping them ramp up their capacity; A significant drop in key raw material prices also encouraged an; uptick in factory activity through the world's second largest economy.
However, analysts remain cautious towards China as they wait to see; if the latest Omicron variant of COVID-19 would affect the nation even as it keeps most of the global markets on edge. With China insisting on continuing with its stringent zero-Covid strategy; the outbreak of Omicron variant could see the nation enforce even tighter lockdowns which could potentially hamper manufacturing activity in the coming weeks.
In addition to the Omicron variant, analysts also expect a possible disruption in manufacturing activity if the Chinese government; orders factories to curtail their production to ease pollution levels in the country ahead of the upcoming Beijing Winter Olympics scheduled to begin in early; February 2022. High-polluting sectors could be most affected by such restrictions, which in turn could bring down overall factory output and cause the manufacturing PMI to slip under the key 50 level once again.
Impact on the Chinese Yuan
The Chinese yuan has been trading choppy since the beginning of the session and this; news has failed to make much of an impact on the currency so far. USD/CNH; appears to be consolidating under the $6.40 level as traders focus on the latest Omicron variant and its possible impact on the global economy before making their next move. At the time of writing, USD/CNH is trading at around $6.37.
USD/CNH could, however; experience some bullish moves, keeping the Chinese yuan under pressure; amid the heightened risk-averse mood in the global financial markets over worries that the latest COVID-19 variant could force countries into lockdowns all over again. This could also hurt the overall economic outlook for the trade-reliant China and keep traders bearish about the CNH in the short term.