Gold Price Forecast: Fed Rate Hike Sentiment And Stronger Dollar in Play
Gold Price, The yellow metal gold fell dramatically to trade at the 1,793 level. Yesterday, gold prices closed at $1791.60 after setting a high of $1812.45 and a low of $1781.75. They extended their losses for the fourth consecutive session and reached their lowest since November 4, mainly because of the rise of the US dollar.
Gold Rate Live
The US Dollar Index was high on Tuesday as it surged for a third consecutive session to reach 96.61. The 10-year Treasury Note yield in the United States reached its highest level since mid-October on Tuesday, at 1.68%.
Fed's Hawkish Policy Sentiments Underpin Dollar
The US dollar was strong in the market, owing to renewed expectations that interest rates in the United States will rise next year following the re-nomination of US Federal Reserve Chairman Jerome Powell. The Dollar Index reached a fresh 16-month high after this news, which raised confidence that the central bank will lift interest rates in 2022.
At first, it was considered that President Joe Biden would prefer Lael Brainard to be the next Fed chair, as she was considered to be more dovish than Powell in terms of monetary policy or stimulating the economy longer. Investors are now betting that newly re-nominated Fed Chairman Jerome Powell will need to accelerate the pace at which the central bank is normalizing monetary policy to better deal with rising consumer prices.
GOLD prices were falling as demand for it as an inflation hedge decreased day by day on bets that interest rate hikes would begin next year. However, the loss in gold prices was limited by the rising concerns related to the coronavirus spread after European countries started imposing fresh lockdowns to curb the increasing number of cases across the region.
Gold Price Forecast: 20 & 50 EMA Signal Selling at 1,793
On Wednesday, the precious metal gold is trading with a bearish bias at a 1,793 level. The metal has already violated a solid support level of 1,803, now operating as a hurdle for gold .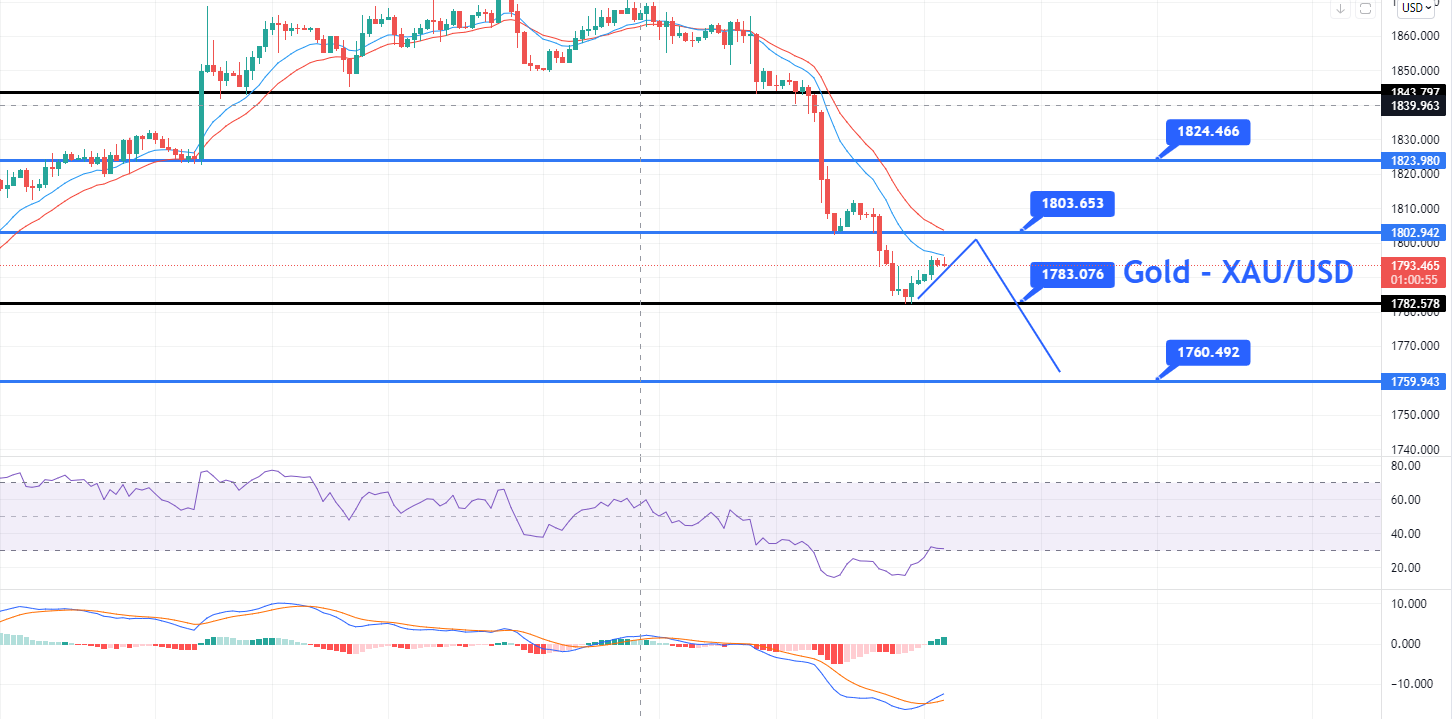 Daily Technical Levels
Support Resistance
1778.09 1808.79
1764.57 1825.97
1747.39 1839.49
Pivot Point: 1795.27On the lower side, gold's; immediate support prevails at 1,783 level; and a slice below has the potential to lead gold towards 1,760 level. The 20 & 50 days EMA also signals a selling bias below 1,793 level; therefore, the idea is to look for a sell position below; 1,795 and vice versa. Good luck!