Gold Spikes to $1,940 – Jerome Powell's Testimony in Highlights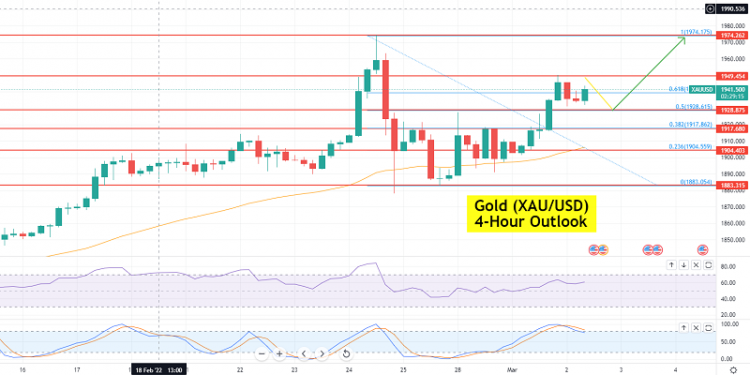 Gold Spikes to $1,940, Gold is breaking through $1,900 once more, having found strong buyers earlier in the Asian session. On the Russia-Ukraine conflict front; a sense of calm prevails, compelling US dollar bulls to relinquish; control while lifting the bright metal. Although it remains to be seen whether the metal can sustain its recent gains, as US Treasury yields remain firm across the curve ahead of a potential 25-bps Fed rate hike in March.
Gold Spikes to $1,940, Markets are also anticipating the release of the US ISM Manufacturing; PMI later on Tuesday; while the developments surrounding the Ukraine crisis are expected to remain the primary market driver. The focus is also on US President Joe Biden's State of the Union address, which is scheduled for early Wednesday.
Jerome Powell; chairman of the Federal Reserve, will testify before Congress; on March 2 and 3 in what will most likely be his final public remarks on monetary policy before the US central bank begins raising interest rates to combat decades of high inflation.
Powell will give his semiannual monetary policy update to the House Financial Services Committee on March 2 and the Senate Banking Committee on March 3. The committees announced on Friday that both hearings will begin at 10 a.m.
Fed officials have all but promised to end their pandemic-era zero-rate policy at their next meeting on March 15-16 in order to bring inflation back down to the central bank's target of 2%. However; it is unclear how aggressively they will respond. Last week; St. Louis Fed President James Bullard called for a full percentage point increase in interest rates over the next three meetings, a more aggressive path than the Fed has taken in decades.
Gold Spikes to $1,940, Gold Technical Outlook
The yellow metal gold is currently on its way to the 23.6 percent Fibonacci retracement (Fibo.) of late January-February upside, which is near $1,940. GOLD buyers, on the other hand, may struggle to break through $1,940, but a successful breakout could propel prices to February's high of around $1,975.
If gold buyers manage to keep the reins tighter than the $1,975 barrier, the 61.8 percent Fibonacci Expansion (FE) of the stated move, around $1,997; as well as the $2,000 barrier; will be difficult nuts to crack for XAU/USD bulls. Pullback moves, on the other hand; remain elusive until the $1,869 support convergence; which consists; of the 100-SMA and an upward sloping trend line from January 28.
It's worth noting that gold's decline below $1,869 will aim for mid-swing February's low near $1,845 before highlighting the $1,800 barrier for XAU/USD bears. Good luck!