EUR/GBP Turns Lower As BOE Hikes Rates to 25bps, While ECB Remains on Hold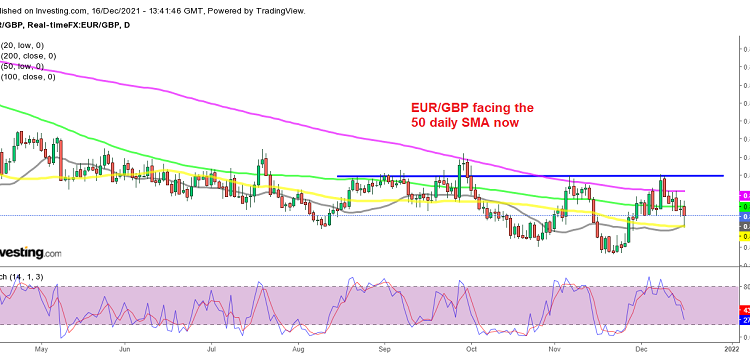 EUR/GBP has been on a bearish trend for a long time, but during most of December, we have seen this pair retrace higher. Inflation has picked up in Europe, following the surge in the US, which has raised the odds of the ECB turning hawkish.
But, the ECB continues to ignore inflation. They kept everything on hold today, while the Bank of England (BOE) hiked interest rates unexpectedly by 15 bps to 0.25%. EUR/GBP  pushed above the 200 SMA (purple) last week but the resistance at 0.86 rejected the price and now the bearish trend is resuming again.
Bank of England Interest Rate Statement
BoE December Interest Rate Meeting hike 0.25 %vs 0.10% expected.
Prior meeting rates at 0.10%
Bank rate 8-1 vote in favour of hike (Tenreyo dissented)
Gilts purchases £875 billion
Corporate bond purchases £30 billion
Total asset program £895 billion (£895 prior)
Gilts purchases vote – (9-0)
Full statement here.
A surprise hike here from the BoE and EURGBP down sharply on the release. Omicron fears not enough to keep the BoE on the sidelines and a sensible move in order to move to normalisation in case inflation fears become more endemic. The rise in wages this week would have been a concern to the BoE. They said this in their statement:
'Bank staff continue to estimate that underlying earnings growth has remained above pre-pandemic rates, and the Committee continues to see upside risks around the projection for pay in the November Report'.
EUR/GBP, ECB Interest Rate Decision
Deposit facility rate -50%
Main refinancing rate 0.00%
Marginal lending facility 0.25%
PEPP to end in March, but APP expanded
APP will continue at a monthly pace of €20 billion, but then strengthen to €40 billion in Q2 and €30 billion in Q3
GC expects net purchases to end shortly before it starts raising rates
Full statement here
All main metrics were expected to be unchanged and that is the case. Purchases were in focus and the extension of the APP program is not as large as some were talking about (€50 billion). All eyes will be on the press conference now to see why those amounts were chosen and why Q2 and Q3 was the time to implement them. EURUSD is slightly higher at the moment as this is arguably more hawkish than the meeting could have been with a mild APP extension. All ears and eyes to the presser now.