Bitcoin Continues to Decline, What Could Trigger More Downside?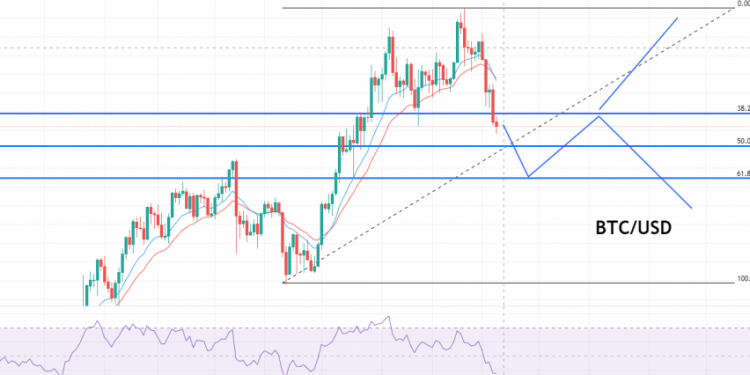 Bitcoin Continues, BTC/USD closed at $57,014.0, after hitting a high of $60,945.0, and a low of $56,559.0. BTC/USD; dropped for the fourth consecutive session on Thursday, reaching its lowest level since October 13, amid the latest sell-off in the market.
As the correction deepened in the crypto market; Bitcoin fell below the $60,000 level; dropping to around $56,000. Market participants believed that Bitcoin was looking weaker than it was last week, when prices surged to their all-time high close to $69,000.
Bitcoin Live Rate
US President Joe Biden has said that he will announce a nominee; for the Federal Reserve chair in the coming days. Two names have come forward – perhaps a reappointment of the current; Chairman Jerome Powell; or a new chair; Fed Governor Lael Brainard. Market participants believe that the latter; might be a better fit for the crypto industry. In choosing between them; Biden will keep several factors in mind; such as their stance on fighting fast-rising inflation and how quickly the US central bank could push; to roll out a digital version of the dollar.
Meanwhile, Indian Prime Minister Narendra Modi warned on Thursday that Bitcoin poses a risk; to younger generations. However, he sounded hawkish, as his government is preparing to introduce legislation to regulate cryptocurrencies.
He was concerned, saying that all democratic nations must work together on the cryptocurrency; industry, to ensure that it does not end up in the wrong hands; which could hurt the youth. These comments were mostly aimed at cryptos' anonymity feature; unregulated transfers make cryptocurrencies a perfect tool for drug trafficking, smugglers and money laundering.
Bitcoin Continues
Furthermore, on Thursday, members of US Congress introduced; the Keep Innovation in America Act; which is a bipartisan bill seeking to fix the digital asset reporting requirements in the infrastructure; bill that was signed into legislation this week. In September; a tax change was introduced in the infrastructure bill that requires people in the US who receive over $10,000 in Bitcoin and other cryptocurrency to report the sender's personal information to the Internal Revenue Service (IRS).
According to the new bill; the reporting requirements will be removed entirely from the law. The new bill stated that the reporting requirement threatens to push innovators and entrepreneurs overseas; and is contrary to how the new technology works. This should have supported BTC/USD prices; but the leading cryptocurrency kept on declining, amid a steep fall triggered by the correction. The pivot point is 58172.7.
BTC/USD Technical Outlook
On the technical front, BTC/USD is on a bearish run. It has already; violated the support level of 57,850, extended by a 38.2% Fibonacci retracement level.
On the lower side, the BTC/USD is heading towards the next 50% Fibo retracement support; level that remains at 54,332. A continued bearish trend could trigger another round of selling until the 61.8% Fibo level of 50,965.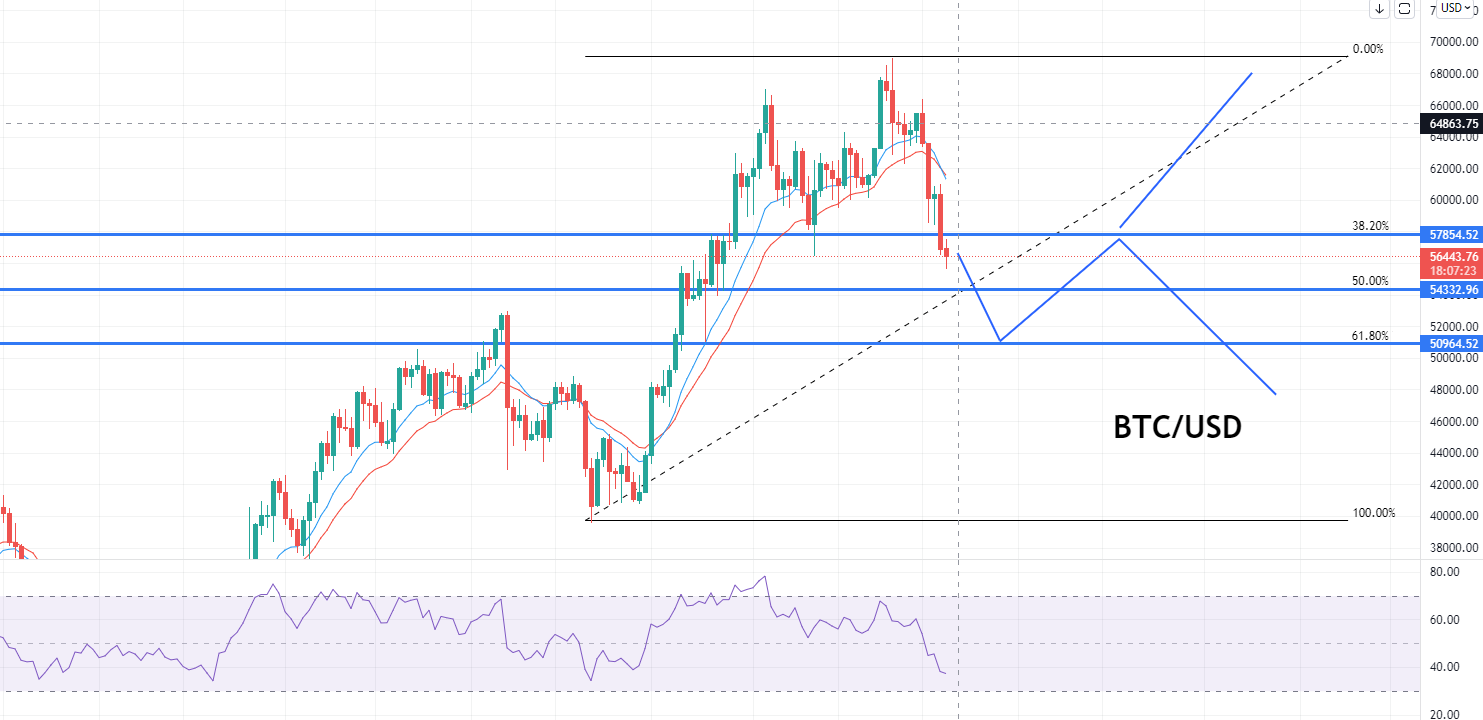 Daily Technical Levels
Support                 Resistance
55400.4                 59786.4
53786.7                 62558.7
51014.4                  64172.4
Pivot Point:          58172.7Well, if Bitcoin closes above this level; it could be the end of a bearish trend; and we may see the bulls entering the market. Let's consider staying bearish below the 57,850 level and vice versa. Good luck!