Fantom Price Increases Further Toward $4, Bitcoin Signal in Profit After the Pullback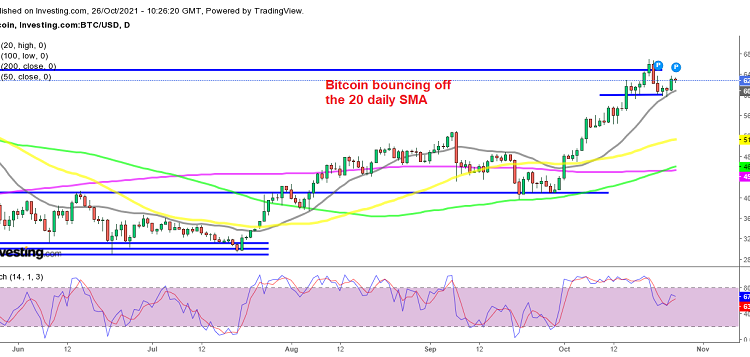 Fantom Price, Right now, there are two specific cryptocurrencies that have been quite bullish during October, namely Fantom and Bitcoin. They're both Layer 1 cryptos and are leading the crypto market higher, pulling a number of cryptos up with them, although these two cryptos are outperforming the rest of market.
Bitcoin Daily Chart Analysis – Bullish Reversing Chart Pattern
Bitcoin has been showing immense strength during October. It retreated lower in September, when the crackdown on cryptos accelerated, but it turned bullish as soon as this month started. BTC/USD pushed above $60,000 and eventually, it even rose above $65,000, which was the all-time high (ATH) for this crypto.
Fantom Price, Bitcoin Live Chart
Bitcoin reached $67,000 but retreated lower last week, losing more than $7,000. But it seems as though the zone around the $60,000 level has turned into support, and the price is starting to bounce higher from there. We decided to open a buy Bitcoin signal just above $60,000, and now we're more than $2,000 in profit after yesterday's bounce, which followed the small hammer candlestick on Monday. So, this trade is going well, and I expect Bitcoin to reach last week's highs soon, so we're holding onto this trade.
Fantom Daily Chart Analysis – The Surge is not Stopping
FTM/USD targeting $3.50 today
Fantom Price, Fantom is the most bullish crypto right now. FTM/USD has appreciated around 23 times since late July, going up in waves, and the uptrend is picking up further pace, instead of cooling off. Yesterday, Fantom pushed above $3, and today it is targeting $3.50 and eventually $4.
As we have mentioned in our other Fantom updates, the previous highs have been turning into support here. Now, the area around $2.50 should turn into support during the next retrace lower, but it seems like Fantom doesn't plan on retreating anytime soon. The Fantom developer conference has started in Abu Dhabi, and it is attracting enormous attention, hence the rally of the last two weeks. The last jump came as soon as the 20 SMA (gray) caught up, showing that the buying pressure is strong, so we're holding onto our buy FTM/BTC signal.