EUR/USD Reversing Lower, After Soft Expectations for the Eurozone Economy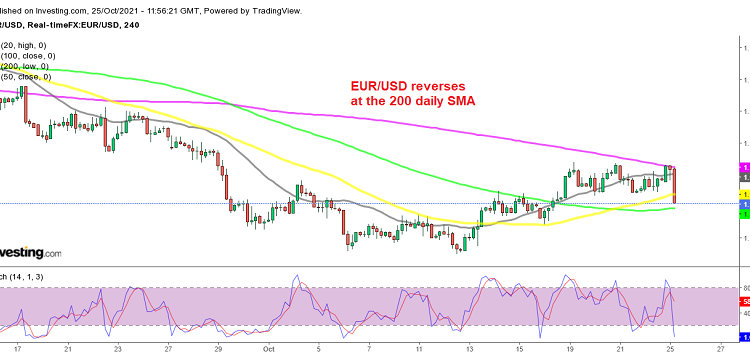 The EUR/USD has been trading on a bullish trend in the last two weeks, with an increase from 1.1520s to 1.1660s, although this climb was more of a retrace of the larger downtrend, and it seems to have ended now. The US economy is picking pace again, as it enters another expanding phase, while the Eurozone economy is losing steam, and the ECB expects it to weaken as we head towards winter.
The German Ifo business climate has been softening, and today's report for October confirms that trend. The Ifo economists expect the German economy to slow down, while ECB economists see the Eurozone economy slowing down as well. Below, you can see the Ifo report and the comments made today:
German Ifo Business Climate, October 2021
EUR/USD, Ifo business climate index, 97.7 points vs 97.9 expected
September business climate was 98.8 points
Current conditions, 100.1 points vs 99.4 expected
September current conditions were 100.4 points
Outlook, 95.4 points vs 96.4 expected
September outlook was 97.3 points
The overall business sentiment slumped in Germany, with the outlook for the coming months notably falling further, amid worries of a slowdown in economic growth. Supply bottlenecks and rising cost pressures are the two key factors influencing the mood, as they are weighing on both production/output and consumption.
EUR/USD, Ifo remarks on the latest German business situation
Supply chain problems are causing trouble for companies
Business sentiment in manufacturing has fallen again, the same goes for services and trade
The sentiment put forward by the Ifo survey is one that was already highlighted by the PMI readings from last week. Expect similar conditions to run through to year-end and to persist into next year.
Remarks by Ifo economist, Klaus Wohlrabe
The German economy is facing an uncomfortable autumn
Supply chain problems are impacting stores
Problems in the industry sector are still virulent
Procurement issues are leading to sinking capacity
German GDP to grow by around 0.5% in Q4
Well, if anything, it isn't just going to be autumn – the conditions in winter aren't likely to be any better, and neither is the outlook going into next year, considering the circumstances.
EUR/USD, Remarks by ECB policymaker, Pablo Hernandez de Cos
Recent developments may see significant downward revision to the economic outlook this year
We will probably observe relatively high inflation in the coming months
And Team Transitory continues their slow climbdown. That is not much of a surprise now, is it? They have been downplaying inflation and supply bottlenecks since the summer, and things have only gotten worse in the past couple of months, with likely spillovers into next year too. Will we see a formal concession by the ECB later this week? That will be something to keep an eye out for.