AXS/BTC Buy Crypto Trade Progresses, As Axie Infinity Coin Gains, While Bitcoin Crashes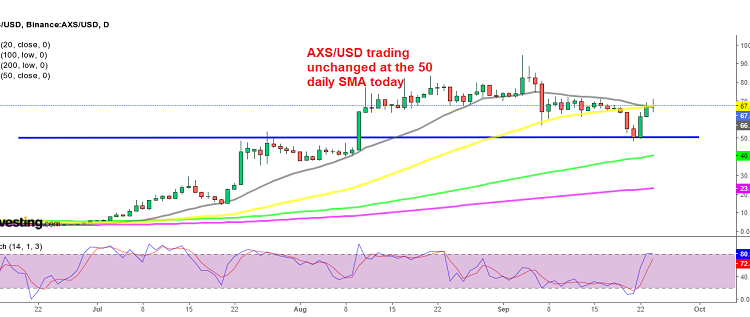 AXS/BTC Buy Crypto ; The crypto market continues to decline, as we have covered in our previous crypto updates. Bitcoin approached the $40,000 level while Ethereum fell below $3,000 once again. The announcement from the People's Bank of China to ban all cryptocurrency transactions and make them illegal sort of makes illegal cryptocurrencies as well in the country. That is a heavy comment from them but the market has taken it well. The decline wasn't too big and buyers are creeping in again.
Axie Infinity has been looking particularly strong since Wednesday when cryptos started reversing higher. After falling to support at the zone surrounding the $50 level, AXS/USD fell to the support and bounced higher during the previous two days, while the rest of the crypto market made little gains yesterday, or no gains at all.
Axie infinity token gained nearly 50% in just two days as it increased from $48 to $71, which shows that buyers were barely waiting for a decent pullback in order to go long. The 50% Fibo retracement retreat was enough and the buying pressure continues today as well. We saw new highs earlier today and the price now is unchanged, while other cryptos are around 10% down. So, Axie is still showing bullish signs and once the decline ends in the market, it will be the first to start surging higher again.
AXS/BTC Buy Crypto; Our AXS/BTC Signal
We have an AXS/BTC crypto signal open which we took before the last surge in this crypto pair and at the moment it is looking quite well. Axie infinity turned quite bullish in the last two days and today it is holding on well despite the crash in the market, while Bitcoin lost 10% of the value and is looking weak.
AXS/USD bounced off the support at around $12 which was the high in July and today the price moved above the 50 daily SMA (yellow) which seems like a proper break. So, buyers remain in charge in this crypto pair with Axie clearly much stronger than Bitcoin, so we are holding on to our buy signal.