Bitcoin Steady Near $42,000: Why BTC Could Exhibit Correction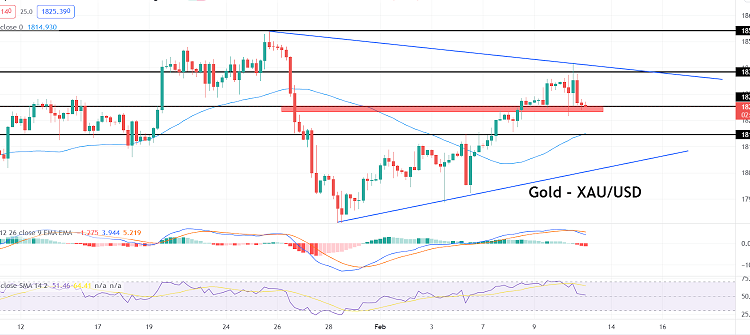 Bitcoin Steady, BTC/USD closed at $42,091.0 after a high of $42,760.0 and a low of $41,920.0. The BTC/USD pair dropped for the fourth consecutive session on Sunday amid the prevailing negative market sentiment. According to the latest updates, Russia's government and central bank have reached an agreement on; how to regulate cryptocurrencies. They are working on a draft law that will define crypto as an analog of currency rather than digital financial assets. The law will be launched on February 18; and cryptocurrencies will only function in the legal industry if they have complete identification through the banking system or licensed intermediaries.
According to the report, cryptocurrency transactions of more than $8,000; would have to be reported. Otherwise, they would be considered illegal. Those who illegally accept cryptos as payments; will incur fines; Meanwhile, Coinbase aired a bold commercial that consisted; of a QR code floating around the screen for 60 seconds during this year's Super Bowl. The ad also quickly flashed a Coinbase URL at the end, which led to the website displaying a promotion for $15 in free bitcoin for new customers who signed up in the next two days.
Bitcoin Steady
Bitcoin Steady, This commercial for Coinbase appeared to be a success as a large amount; of traffic resulted in a crash of the app. However, the outage did not last for long, as after a few minutes; Coinbase came back and thanked people for such praise. The commercial became popular in no time as people started tweeting about it. The Coinbase ad was hardly the only crypto commercial to air, which was very successful.
Furthermore, given the recent price decline, some bitcoin miners are said to trade in their holdings to purchase more powerful equipment. According to a metric tracking bitcoin miners, Bitcoin holdings by miners have turned negative for the first time since November. As a result, the declining price of bitcoin has forced miners with costly operations to mind their cash balances.
Additionally, Netflix had announced that it would soon produce a documentary series on the infamous Bitfinex hack, one of the biggest financial crimes of 2016, when about 119.756 BTC tokens; worth $72 million at the time, were stolen. The Netflix documentary will be centered around a New York-based; couple and their link to laundering nearly 120,000 BTC tied to the crime.
Daily Technical Levels
Support Resistance
41754 42594
41417 43097
40914 43434
Pivot Point: 42257
Bitcoin Steady, Bitcoin (BTC/USD) Technical Outlook
Bitcoin's price fell sharply after failing to break; over the $45,500 resistance level. BTC fell below the $43,200 and USD 42,500 support levels, entering a bearish zone in the immediate term. A closing below the $42,50; level and the 100 hourly simple moving; average occurred. A bottom near $41,573 was formed, and the price is now consolidating; losses. There is immediate resistance near the $42,000 level. The first significant barrier is located near the $42,200 level.
On the hourly chart of the BTC/USD pair, there is also a key negative trend; line forming with resistance near $42,200. The next major resistance level could be $42,500, or the 23.6 percent Fib retracement of the recent slide from the $45,900 high to the $41,573 low.
If bitcoin fails to start a new uptrend over $42,850; it may continue to fall. On the downside; there is immediate support near $41,600. The next major support level is predicted near $41,200. If the price breaks below the $41,200 support, it might begin a significant drop towards the $40,000 level.
Good luck!